It means a lot to me that you are visiting this page. It shows that you enjoyed my workshop at NomadCity and you want to know more. Awesome!
Let me introduce you to the tools and resources I mentioned during my workshop..
Did my workshop and these resources helped you in any way? Don't forget to leave me a comment with your thoughts. A simple thank you would make my day!
Where Google Analytics ends, Hotjar starts. This web analytics tool let's you discover visitors behaviour in incredible detail.
It's ridiculous to see how people use my website and product. The numbers in Google Analytics become real people who interact with the things I created. I feel like an artist who sits in the corner of the museum to see the expressions on peoples faces.
I mostly use it to get inspired for my next A/B test and to improve my sales pages. Try it for free yourself.
Google Search Console (formerly Google Webmaster Tools) is highly underrated as a SEO tool. Strange when you consider that it's the number one portal for you as a webmaster to communicate with Google.
Google Search Console gives you insights about 'searchers' while Google Analytics gives you insights about 'visitors'. The moment of change is when a searcher actually clicks your link in the SERP and becomes a website visitor. If you haven't setup Google Search Console yet, do it right now.
Google Analytics is the most used web analytics tool around the world. I'm pretty sure that you've installed GA all ready on your site.
Google Analytics is great for A/B test your design, your copy and your pricing strategies. Another advice I would like to give you is UTM. With these parameters you can add extra information to a link. Ones the link is clicked Google Analytics makes this extra information visible for you. Start adding campaign information to your analytics with the Campaign URL Builder.
ConvertKit understands the future of email marketing very well. Their tag-based approach (instead of list-based Email Service Providers like mailchimp or aweber) makes so much more sense for you as an online marketer.
ConvertKit is my first experience with tag-based email marketing. I love this approach from the start. You have one big list of email subscribers who are differentiated with tags. One subscriber can have multiple tags based on their clicks and behaviour. Ones you have experienced an Email Service Provider which is tag-based, you simply don't want anything else. Try ConvertKit yourself!
Recently I switched my Email Service Provider to Drip. This was a tough decision for me with 17.000+ subscribers and email marketing highly integrated in my business. But I did it anyways. I will tell you about the big benefits of Drip.
Drip is like ConvertKit 'tag-based' (instead of list-based). In my opinion this is the best and only way to manage your email marketing properly. But Drip has an advantage over ConvertKit when it comes to 'If this than that'-functionality (IFTTT).
IFTTT is very powerful when it comes to email marketing. You can automate your emails based on predefined rules. If a user clicks this link, than it gets tagged as 'hot lead' for example. This functionality combined with 'Lead-score' is extremely powerful. Lead score is a prediction on the probability that a potential customer will buy your product, based on historical data within your Drip account.
This takes automation to a higher level (or workflow as they call it). Example: 'if lead-score is higher than 80% sent sent sales email, if not sent nurture email'. Do you get an understanding of the incredible power of Drip?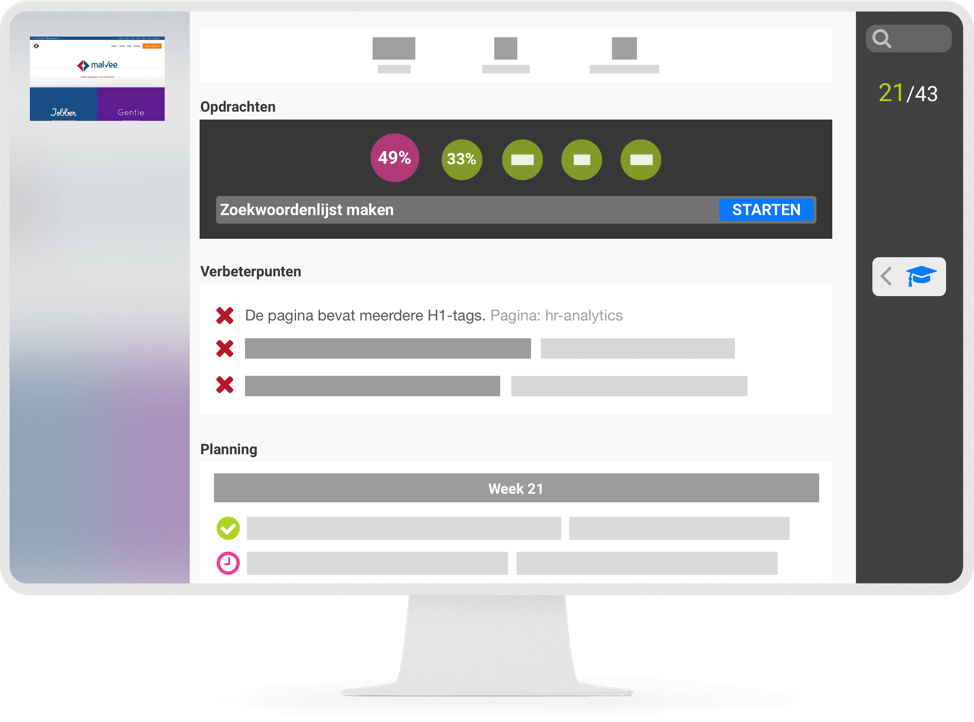 Madhead Madonna is a powerful SEO management tool from the Netherlands. Even though it's still in development, the guys from Marketing Madheads know how to provide incredible value to manage your SEO.
My business for example is highly dependent on SEO. We work with a small content team to build and maintain our SEO. Everyone in the team can log in and contribute to our shared Keyword mapping. Everyone has insight in the latest numbers about rankings, search traffic on specific terms and our SEO competition. The Madhead Madonna has become our one-stop-shop for SEO.
Do you want to give Madhead Madonna a try as well? Reach out to me below in the comments and I'll get you an account.